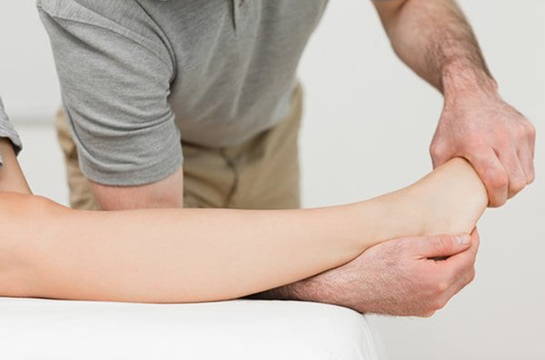 Physical Therapy for Shoulder Pain
The shoulder is a complex ball and socket joint made up of the humerus (arm bone), the scapula (shoulder blade) and the clavicle (collar bone). There are many ligaments that support the shoulder, and many muscles are attached to aid in movement.
There are many potential causes of the shoulder pain you may be experiencing and can easily occur in the left or right shoulder or both depending on use. Overhead activities, such as swimming or throwing a ball, can cause pinching of the rotator cuff or biceps tendons. Sometimes, poor posture can increase stress on the shoulder and cause pain. Shoulder pain treatment and relief is a key component of our orthopedic services. Our physical therapists are orthopedic specialists and experts in evaluating, treating and managing patients with an array of shoulder pain problems.

Shoulder Pain Relief Services
Exercise Therapy, Occupational Manual Physical Therapy
Global Exercise
Soft Tissue Mobilization (Massage)
Job or Sport Stimulation/Training
Functional Lifting, Plyometrics
How is Shoulder Pain Diagnosed?
Clinical Exam
MRI
X-Ray
Orthopedic Specialist
Shoulder pain treatment options
Rest, Physical Therapy, Medications, Surgery
Ultrasound, Electrical Stimulation
Education on Posture and Ergonomics
Activity/Sport Modification
What are common shoulder problems?
Rotator Cuff Tears, Impingement, Labral Tears
Biceps Tendonitis
Shoulder Fracture
Frozen Shoulder
MDI (multi-directional instability)
Shoulder Pain, AC Joint Sprain, Shoulder Bursitis, Dislocation/Subluxation
Tendonitis, Cervical Radiculopathy
Recommendations for ongoing pain relief
Maintenance of HEP/Continue Conditioning Program Independently
Regular Communication with your Provider (PT)
Postural Awareness, Symptom Recognition and Management Early On
Physical Fitness
Health & Wellness Strategies
Home Exercise Program or Gym Program, Customized to the Individual
Wellness, Sports Customization
Do You have pain in your Shoulder?
Contact our physical therapists today
Our physical therapists will customize a jaw pain treatment plan just for you. We will work in an effective way to get you back on your feet, focused on your wellness before, during and after therapy.
Alexandria Clinic: 318-443-8278

Pineville Clinic: 318-640-0470

Text Clinic: 318-528-7868

Email: support@agilushealth.com
Alexandria Clinic: 318-445-1196

Pineville Clinic: 318-640-0296

Email: support@agilushealth.com