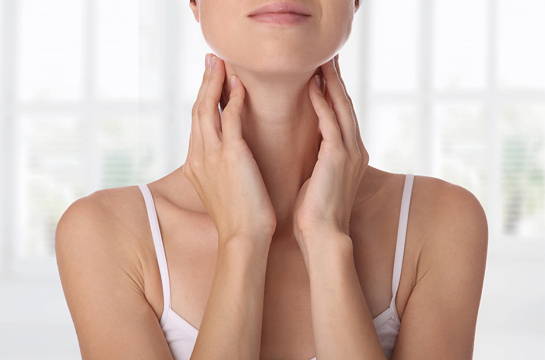 Through the hormones it produces, the thyroid gland influences almost all of the metabolic processes in your body. Thyroid disorders can range from a small, harmless goiter (enlarged gland) that needs no treatment to life-threatening cancer. The most common thyroid problems involve abnormal production of thyroid hormones. Too much thyroid hormone results in a condition known as hyperthyroidism. Insufficient hormone production leads to hypothyroidism.
Although the effects can be unpleasant or uncomfortable, most thyroid problems can be managed well if properly diagnosed and treated.

Fatigue
Weakness
Intolerance to Cold
Muscle Aches and Cramps
Constipation
Weight Gain or Difficulty Loosing Weight
Poor Appetite
Goiter (Enlarged Thyroid Gland)
We'll help you get your life back
Consult a professional today
Our expert team of Doctors, Nurse Practitioners, and Physical Therapists will assist you in multiple different areas of your life.
We can help you with managing your daily stress to improve your sleep and reduct the strain upon your body. We can guide and advise you on your diet and nutritional needs to assist you in living a longer, healthier & happier life!
Complete this short form with any questions you may have, and someone from our team will get in touch with you soon.
Alexandria Clinic: 318-443-8278

Pineville Clinic: 318-640-0470

Text Clinic: 318-528-7868

Email: support@agilushealth.com
Alexandria Clinic: 318-445-1196

Pineville Clinic: 318-640-0296

Email: support@agilushealth.com