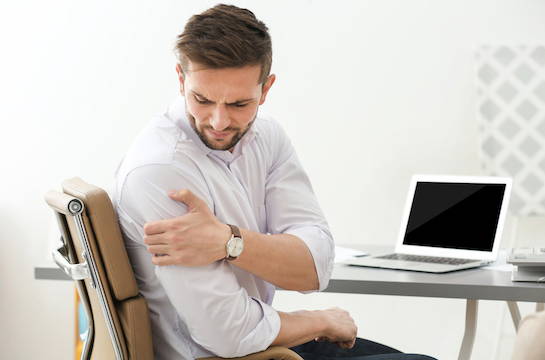 Subacromial Impingement Syndrome (SAIS) is defined as an encroachment of soft tissue structures, such as the supraspinatus tendon, under the coracoacromial arch of the shoulder in the subacomial space.

The current evidence based standard of care for the clinical management of SAIS includes therapeutic exercise and manual therapy. There have been a multitude of studies that have examined the most efficacious exercises to manage SAIS, with a consensus on directly addressing the shoulder muscle length and strength deficits typically resulting from the impingement. The manual therapy interventions noted to be effective in managing SAIS are techniques aimed at improving mobility of the glenohumeral joint and the cervicothoracic junction.

Dry needling as a manual therapy technique can be very effective when utilized as an adjunctive intervention in managing impingement syndrome.

Difficulty Reaching up Behind the Back
Pain With Overhead Use of the Arm
Weakness of Shoulder Muscles
We'll help you get your life back
Consult a professional today
Our expert team of Doctors, Nurse Practitioners, and Physical Therapists will assist you in multiple different areas of your life.
We can help you with managing your daily stress to improve your sleep and reduct the strain upon your body. We can guide and advise you on your diet and nutritional needs to assist you in living a longer, healthier & happier life!
Complete this short form with any questions you may have, and someone from our team will get in touch with you soon.
Alexandria Clinic: 318-443-8278

Pineville Clinic: 318-640-0470

Text Clinic: 318-528-7868

Email: support@agilushealth.com
Alexandria Clinic: 318-445-1196

Pineville Clinic: 318-640-0296

Email: support@agilushealth.com