We are proud to now offer Medical Marijuana services to central Louisiana.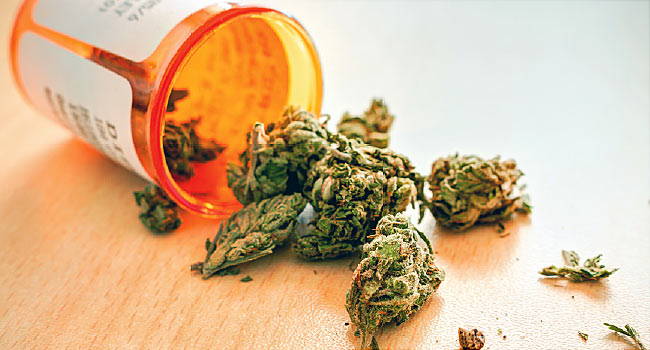 Dry Needling is an advanced practice intervention performed by Physical Therapists who have completed extensive continuing education in the topic. Currently, Agilus Health has one Physical Therapist who is able to perform the procedure; Scott Kelley, PT, DPT, Cert. DN, Cert. SMT, DIP. Osteopractor.
Scott has his Doctorate in Physical Therapy, certified in Dry Needling, certified in Spinal and Extremity Manipulation Therapy, and is a Diplomate of Osteopractic Services.
What is medical marijuana?
Medical marijuana uses the marijuana plant or chemicals in it to treat diseases or conditions. It's basically the same product as recreational marijuana, but it's taken for medical purposes.
The marijuana plant contains more than 100 different chemicals called cannabinoids. Each one has a different effect on the body. Delta-9-tetrahydrocannabinol (THC) and cannabidiol (CBD) are the main chemicals used in medicine.

How does it help?
Cannabinoids -- the active chemicals in medical marijuana -- are similar to chemicals the body makes that are involved in appetite, memory, movement, and pain.
WHO QUALIFIES FOR MEDICAL MARIJUANA?
The patient must be a resident of Louisiana. There are no age restrictions on who can receive treatment.
Qualifying Medical Condition
You MUST have a current, active diagnosis from the following list to qualify for medical marijuana. This list is codified in state law and there is absolutely no way to recommend medical marijuana for anything else.
There are many additional qualifications that have to be met during the consultation to receive a medical marijuana recommendation. Just because you have a qualifying medical condition does not guarantee you will receive a medical marijuana recommendation.

Cancer
HIV/AIDS
Cachexia/Wasting Syndrome
Muscular Dystrophy/Spasticity
Autism
Multiple Sclerosis
Seizure Disorders/Epilepsy
Crohn's Disease
Parkinson's
Severe Muscle Spasms
PTSD
Intractable (chronic) Pain
Glaucoma
Dry Needling VS. Acupuncture
While Dry Needling uses the same tool as acupuncture-it is with a different theoretical purpose. Dry Needling is based on traditional, studied and tested practices of Western Medicine to restore normal muscle function. Traditional acupuncture practitioners follow Eastern Medicine's key principle of holistic treatment, and is based on normalizing the energy imbalance, or Chi, in the body to cure syndrome.
Further, the amount of formal training received by an Agilus Health therapist is extensive. An Agilus therapist has undergone thousands of hours of training, successfully passed regulated board exams, and has a thorough knowledge of a patient's condition.
how to request a medical marijuana consultation today
Confirm Qualifying Medical Diagnosis
If you are a Louisiana resident of any age and have a current and active diagnosis from the following list, you may be eligible for treatment with medical marijuana.
If your condition is not specifically listed, then you cannot receive a medical marijuana recommendation.
There are many additional qualifications that have to be met during the consultation to receive a medical marijuana recommendation.

Just because you have a qualifying medical condition does not guarantee you will receive a medical marijuana recommendation.

We require that you carefully review this page, the Clinic Information page, and the Louisiana Medical Marijuana Program page before requesting a consultation.
Important information about our clinic and the Louisiana Medical Marijuana program will be contained within these pages.
Submit The Consultation Request Form
To request a new patient consultation for Medical Marijuana, please submit the Request A Consultation Form at the bottom of this page.
Pay Non-Refundable Deposit (Pulled from another site, can be removed or tweaked if needed)
After you have submitted your Request a Consultation Form, you will need to pay a $50 Non-Refundable Deposit with a credit or debit card.
No refunds of deposits or fees are provided under any circumstance. Specifically, deposits or fees are not refunded if we are unable to provide a medical marijuana recommendation, regardless of reason.
Because your deposit is applied to a specific consultation date and time, once your consultation is scheduled, missing the appointment for any reason (such as cancellation, no-show, or rescheduling) will result in loss of your NON-REFUNDABLE DEPOSIT.
Your deposit is applied towards your $200 consultation fee. The remainder of the consultation fee ($150) is due at the time of your visit. We accept credit cards and debit cards. We do not accept cash or checks.
Insurance does not reimburse us for the specialized and extensive consultation that we provide. Thus, we do not accept insurance for this service.
Read, Print & Fill Out Information Packet
Included in this packet is additional important information, clinic contact information, consent forms, privacy policy, consultation tips, and medical records request form.
Please print, read, and sign your information packet and bring it with you to your consultation.
Click the download button below:
You MUST be able to provide medical records from the past 12 months from your current treating physician with information about your qualifying medical diagnosis.
If needed, please submit the medical records request form contained in the Information Packet to your doctor's office ASAP to have your medical records faxed directly to our office.

After we have processed your Request for Consultation and Non Refundable Deposit, our scheduling department will contact you to finalize and schedule your consultation.
Thanks for your interest at Agilus Health, we look forward to meeting you soon!
Alexandria Clinic: 318-443-8278

Pineville Clinic: 318-640-0470

Text Clinic: 318-528-7868

Email: support@agilushealth.com
Alexandria Clinic: 318-445-1196

Pineville Clinic: 318-640-0296

Email: support@agilushealth.com