Instrument-Assisted Soft Tissue Mobilization (IASTM)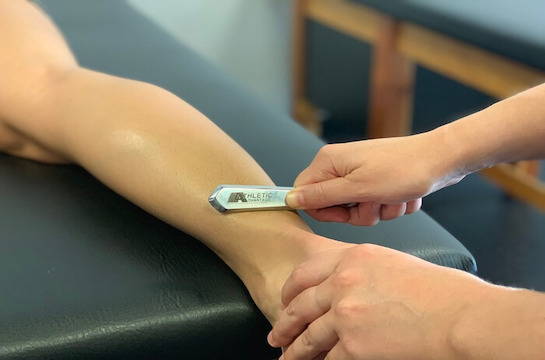 Instrument-assisted soft tissue mobilization, also known commonly as Graston technique®, is a specialized myofascial release and massage technique used during physical therapy treatments. It is a relatively newer treatment that involves using metal or plastic tools to improve soft tissue mobility in your body. These ergonomically shaped tools help your PT massage and mobilize your muscles, fascia (the collagen covering your muscles), and tendons. This is thought to reduce pain and improve movement.

Sometimes after an injury, you may develop tissue tightness or restrictions in muscles and fascia. These soft tissue restrictions can limit your range of motion (ROM) and may cause pain. Your physical therapist may use various myofascial release and soft tissue mobilization techniques to free these restrictions to help you move better and feel better. Myofascial release with ISATM may be one way your PT treats these restrictions.

Improved Soft Tissue Mobility
Elimination of Restrictions in Fascia
Improved Flexibility
Decreased Pain
Decreased Muscle Spasm
Increased Circulation & Blood Flow to Tissues
We'll help you get your life back
Consult a professional today
Our expert team of Doctors, Nurse Practitioners, and Physical Therapists will assist you in multiple different areas of your life.
We can help you with managing your daily stress to improve your sleep and reduct the strain upon your body. We can guide and advise you on your diet and nutritional needs to assist you in living a longer, healthier & happier life!
Complete this short form with any questions you may have, and someone from our team will get in touch with you soon.
Alexandria Clinic: 318-443-8278

Pineville Clinic: 318-640-0470

Text Clinic: 318-528-7868

Email: support@agilushealth.com
Alexandria Clinic: 318-445-1196

Pineville Clinic: 318-640-0296

Email: support@agilushealth.com