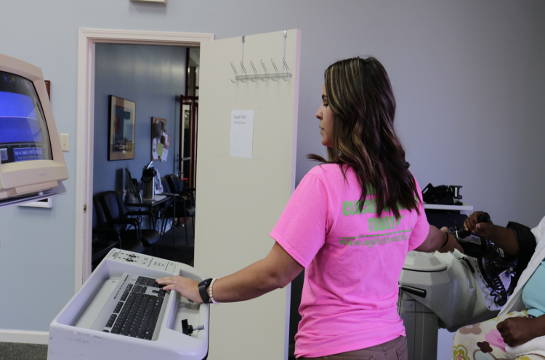 You can begin treatment right away!
You may come directly to your Physical Therapist and receive an evaluation and treatment for any musculoskeletal injury. Your Physical Therapists can treat that acute or chronic shoulder, elbow, wrist, hand, neck, back, hip, knee, ankle, or foot injury right now!
Upon completion of your Physical Therapy evaluation, we will determine your treatment plan. If further diagnostic tools (e.g., x-ray, MRI, etc.) are needed to ensure proper care, Agilus will communicate our findings with the physician of your choice.

Louisiana is now a "DIRECT ACCESS" state. This means that legislation in Louisiana was passed allowing licensed physical therapists to evaluate and treat patients without first seeing a physician. As a "Direct Access" patient, you do not need a prescription from your physician to receive out-patient physical therapy. You may start treatment the minute you feel pain!

As a "DIRECT ACCESS" provider, physical therapists can utilize their skills and training to the fullest, to offer interventions for, and prevention of impairments, functional limitations and disabilities related to movement and the restoration of function. Our expert physical therapists proficiently evaluate a patient's condition and identify ways to resolve and or improve musculoskeletal and neuromuscular issues. These therapists are also trained to recognize the red flags and other indications which make a referral to another appropriate healthcare provider necessary.

Reduces healthcare cost for patients and for Louisiana - Direct access states have found that patients have 86% fewer visits on average than referred patients and no unnecessary co-pays or imaging).
Reduces opioid us through the use of mechanics, not pain pills - Louisiana is one of 13 states with the highest number of painkiller prescriptions.
Keeps more Louisiana physical therapy students in Louisiana's workforce - On average, PT schools lose 20% of graduates to out-of-state jobs. They are trained to practice in direct access states (national board exam), and this bill will now keep them at home in Louisiana.
Strengthens the collaborative and innovative health care system in Louisiana.
Allows for prompt attention and service.
Ability to choose your physical therapy provider.
Referral not required.
How Does Direct Access Work?
You may come directly to Agilus Health to receive an evaluation and treatment for any pain. That means we can treat that acute or chronic shoulder, elbow, wrist, hand, neck, back, hip, knee, ankle, or foot injury right now!

Who Is Eligible To Be Seen Via Direct Access?
Any person in Louisiana is eligible to be seen directly by a Physical Therapist.
Should I Use Direct Access, Or See My Physician First?
Direct access allows you to use Physical Therapy as an entry point for your healthcare needs. Your physical therapist will evaluate your condition and develop a game plan for you. Our team woks as part of the entire medical team to provide the most appropriate treatment plan. If the appropriate care is outside our scope of expertise, we will refer you to the proper healthcare provider, which in many cases can be found in the same building!

We'll help you get your life back
Consult a professional today
Our expert team of Doctors, Nurse Practitioners, and Physical Therapists will assist you in multiple different areas of your life.
We can help you with managing your daily stress to improve your sleep and reduct the strain upon your body. We can guide and advise you on your diet and nutritional needs to assist you in living a longer, healthier & happier life!
Complete this short form with any questions you may have, and someone from our team will get in touch with you soon.
Below is a condensed list of insurances we participate with throughout our network of clinics & specialties. Find your particular provider below based on the specialty or clinic. For a complete listing of all insurance providers and individual plans by name: CLICK HERE FOR OUR FULL INSURANCE PAGE.
*Click An Option To Expand
Physical Therapy
Insurance Providers
Merrill Primary Care
Insurance Providers

On June 6, 2016 Senate Bill No. 291, amending the Louisiana Physical Therapy Practice Act found at La. R.S. 37:2418 et seq., became law allowing patients direct access to physical therapy. This law is effective as of June 6, 2016. A summary of the changes in the law are as follows:

A physical therapist possessing a doctorate degree or five years of licensed clinical practice experience may implement physical therapy treatment without a prescription or referral;

A physical therapist treating a patient without a prescription or referral must refer the patient to an appropriate healthcare provider if, after thirty days of physical therapy treatment, the patient has not made measureable or functional improvement;



The new direct access provisions do not change the law as it related to Workers' Compensation as specified in La. R.S. 23:1142, monetary limits of health care provider approval; La. R.S. 23:1122, Worker's Compensation Medical Examinations; and La. R.S. 23:1203.1, Worker's Compensation Benefits;

No physical therapist shall render a medical diagnosis of disease.



While patient access to physical therapy has changed, the scope and practice of physical therapy remains the same.1Physical therapists conduct an initial physical therapy examination and render a physical therapy diagnosis treating only those conditions within the physical therapy scope of practice. In addition, a physical therapist remains responsible for managing all aspects of the physical therapy care of each patient. 2A physical therapist must continue to practice within his/her individual scope of practice by exercising sound professional judgment based on his/her individual knowledge, skill set, education, training and experience, and only perform those procedures in which he/she is competent. 3If in practicing within his/her individual scope of practice the physical therapist finds that the treatment needed is outside his/her scope of knowledge, experience, or expertise, the physical therapist must notify the patient and appropriately refer to another healthcare provider. 4It is important to note that direct patient access does not impact payment procedure or guarantee payment from payor sources.

1La. R.S. 37:2407.
2La. R.S. 37:2418 A and Louisiana Physical Therapy Board Rule § 303 B.
3Louisiana Physical Therapy Board Rule § 303 C.
4Id.

Source: Louisiana Physical Therapy Board